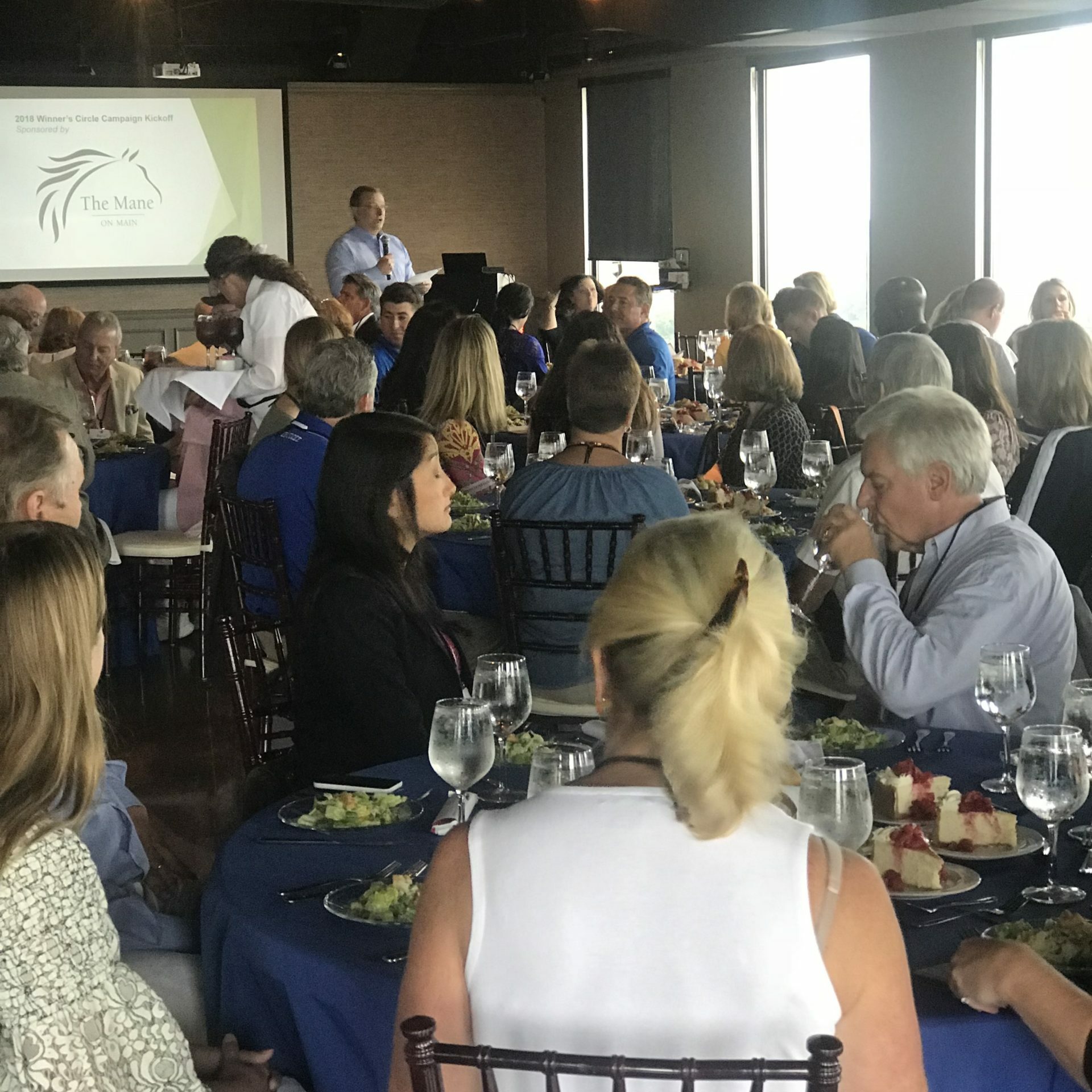 See What Our Client's Have to Say...
Everyone was so kind and professional, and the food was very tasty. If you're worried about health safety precautions you don't need to be! They were so aware and cautions. I highly recommend for anyone looking for an event space!"

-Makayla M.

1.2021
Dupree will allow you to relax, knowing that the food will be excellent and the service stellar. Great individualized service that helped bring to life our vision for food and drink - so many compliments from guests."

-Pat S.

11.2019
We had an office party here. The place was pretty spacious to host around 150 people. The view from the top is exhilarating. I am not sure if there are any other places in Lexington which offers a sky view of the city.
We had a open bar, and they had pretty decent drinks. The appetizers were good. I didn't have much as I was saving my hunger for the main course. But I heard from my colleagues that the appetizers were equally good as the main course.
We were offered 4 main courses and asked to pick one beforehand.
1. Grilled Sirloin with Red Wine Horseradish and Chive Butter, crispy garlic marbled potatoes, seasonal roasted veggies, yeast rolls, mixed green salad
2. Garlic lavender and wine glazed chicken, wild mushroom gnocchi, shaved brussels sprouts, yeast rolls, mixed green salad
3. Bourbon and cider glazed salmon, herb rice pilaf, lemon roasted asparagus, yeast rolls, mixed green salad
4. Vegetarian: Grilled ratatouille napoleon, crispy garlic marbled potatoes, seasonal roasted veggies, yeast rolls, mixed green salad

I picked Salmon for myself and Vegetarian for my +1.
The salmon was amazing. The herb rice pilaf was yummy. Most of my colleagues from my table had the Grilled Sirloin. It looked good and they said good things about it.
The main course was supplemented with some good desserts.

This is one of the best places I have been recently and I am surprised how very few people in Lexington have heard about this place. This would be a best place for an OYE (Official Yelp Event) so that more Yelpers can yelp about this place and spread the word."

-Vijayanarayanan S.

2.2018
BUSINESS AT THE MANE
Located in downtown Lexington, The Mane on Main is the perfect location for your corporate meeting and event needs. Your guests will love the convenience of the location, the many surrounding hotels and restaurants, and the quick ability to get an Uber or Lyft.
The Mane on Main can host a variety of corporate events because our space can easily be transformed to fit the needs of just about any group size. This is a space where you and your guests can come to learn, train, meet and brainstorm. Leave the details to us and let us make your event seamless.
THE SPACE
The Mane on Main can accommodate both small and large groups for corporate events. The two larger rooms, the East and West, are great for seminars and presentations. The East Room with a built-in bar is the largest room, while the West Room can seat up to 200 guests. The Lexington Room can seat around 50 people and is the perfect size for smaller meetings or as a potential breakout room. All areas combined can hold nearly 500 people.
Lighting, AV setup and monitors are built into the space for use during events. The venue also has attached covered parking in the Chase Bank garage. If you are interested in booking, please email heather@themaneonmain.com.
LOCATION DETAILS
3 blocks from Marriott and 21C hotels
1/2 mile from Rupp Arena/Hyatt Hotel
1/2 mile from dining and shopping at The Square
5 miles from University of Kentucky
5 miles from I-75
AMENITIES
THE SPACE
Floor to ceiling windows throughout entire venue
Wi-Fi accessibility
Elevator access
Four (4) restrooms
Coat room
LIGHTING/POWER
Transitional light fixtures
Dimmable track lights
Power capabililty throughout
Power outlets in the ceiling for additional lighting
AUDIO VISUAL SETUP
Mounted televisions throughout
9-foot drop down screen in the West Room
Drop down screen in the Lexington Room
Installed audio system throughout
FURNITURE
250 mahogany Chiavari chairs
25 – 5ft round tables
Assortment of 6ft and 8ft rectangular tables
Assortment of cocktail tables
THE FOOD
Dupree Catering + Events is the exclusive caterer for The Mane on Main. With over 30 of years in the catering business, they can truly do it all! Click here for information about food and beverage options for your next corporate event.
---
FAQ's
What are the parking options?
Guests at The Mane on Main can park in the attached parking garage of the Chase Bank building. The cost of parking varies on the amount of time you are parked in the garage. If you are hosting an event at The Mane you may choose to cover parking fees for your guests at a discounted rate. Surrounding street parking is also available, and is typically free after 5:00pm on weekdays and free on weekends. 
Can I use an outside caterer for my event? 
Dupree Catering + Events is the exclusive caterer for The Mane on Main. Dupree Catering has been Lexington's premiere caterer for over 30 years, so you are in great hands! We can work with many different price points and cuisine styles. 
How do I secure my event date at The Mane?
You can secure your event date at The Mane by signing a contract. You will also be required to put down a deposit of 50% of the rental fee and 25% of your expected food and beverage total. 
Can I place a hold on a date for an event?
YES! We can place a date on hold for one week with no commitment.
What does the venue rental fee include?
The rental fee includes the rooms in the venue agreed upon in the contract and time needed for your event.  The rental fee also includes tables and chairs for up to 250 guests. 
How do I schedule a tour?
We would love to show you the venue! Give Heather a call at 859.231.0464 or send an email to heather@themaneonmain.com to schedule an appointment.